People's Park turns 41!
Let Peace and Justice Bloom!
(quartersheets)
(hi-res poster)
Sunday, April 25th, 2010, noon-6: Life has not stopped at fourty for our People's Park; come out for the Anniversary Concert featuring: Antioquia, Funky Nixons, Phoenix, Wingnut Breakfast, All Nation Singers, Little Boy Blue, Yukon Hannibal, Juan Carlos, ClownSnotBombs Secret Circus, Corey Finnegan Comedy, M.C. OrukusaKi, Kirby, Tom, Speakers, childrens's party jump and activities, circus workshop, The Larry Bus with extra surprise bands, and finally, drum cicle 6pm wingnuts!!!!
We hope to see you there!
---
Open Meeting: Painting the Stage -- December 6th
Call for meeting:      On Tuesday morning, Devin found it necessary to request the protection of four police officers in order to paint over another slogan that had appeared on the stage.  Again, the volunteer group that has built and maintains the stage was not noticed.  In order to avert a further waste of funds upon this sort of martial law presence by the University of California, we call for an open democratic meeting to be conducted on Sunday, Dec. 6th, at 1pm.  The meeting is to be followed by a painting party.  The presence of People's Park Community Advisory Board members is particularly requested, but the entire community is encouraged to participate, as both the content of the slogans and the tradition of painting them on the Free Speech Stage have come under attack by the University of California.  It is only through clear democratic process and direct action that we may overcome this conflict.  University of California employees are encouraged to participate as volunteers.
---
University of California attempts to criminalize free speech and user-development in People's Park
UPDATE: The trial date has been set for February 6th, 2010. Check back for more details!
On the 4th of July, 2009, UC Police arrested Arthur Fonseca, a long-time People's Park activist and resident of Berkeley, and charged him with misdemeanor vandalism.
Mr. Fonseca was in the act of painting the slogan "Common Ground is Sacred Land." on the front of the Free Speech Stage in People's Park, Berkeley.
All of the maintenance and upkeep expenses for the Free Speech Stage have been paid for by the People's Park Anniversary Committe, a non-profit recognized by the State of California, which represents People's Park activists in their decades long struggle to prevent the University from developing People's Park.
Mr. Fonseca is a core member of East Bay Food Not Bombs, a group that has been instrumental in the community's involvement in People's Park, and has overseen most of the maintenance on the stage as a volunteer for more than 15 years now. Mr. Fonseca completely rebuilt the Free Speech Stage 10 years ago for the 30th Anniversary with the University's permission and the help of a large crew of volunteers, none of whom were University students or employees. Mr. Fonseca undertook 3 months of volunteer labor in order to complete the job.
The University of California's Board of Regents has summarily proclaimed that the Free Speech Stage in People's Park is their private property, and is prohibiting Free Speech activities there under punishment of the law.
---
People's Park 40th Year!
A week of celebratory events. Fun was had by all.
People's Park 39th Anniversary
Experimental Acoustic Jam and Potluck Extravaganza
We are planning a Do It Yourself People's Park Anniversary Acoustic Blowout Jam and Potluck Extravaganza for this year's 39th celebration on Sunday April 27, 2008.
The idea is to have multiple experiences going on at the same time that encourage more participation and less spectating. Visualize an old-time music jam, a poetry stage, puppet making and shows, square dancing, sing-a-longs, acoustic performances, art projects, group games, video showings, circuses, marching bands, political discourse, jump-rope, visioning ideas for People's Park, gardening projects, green living demonstrations, knitting workshops, miniature golf etc..
Please come to our weekly meetings to plan the anniversary: Sundays at 4:20 in the Park. Here's more information about what we need help with: anniversary tasks. And here's a flier for the event. And another one.
Celebrate 39 years of sharing land and community.
!Viva El Parque del Pueblo!
Contact us at 510 658-9178 or just show up.
---
MKThink Report is Out
come to the Public Comment period
MKThink's report (20M) is out. Here is their executive summary of the report. Also see: What MKThink Missed (5.4 M).
At the People's Park Community Advisory Board meeting on Monday, November 5, 2007, there will be an opportunity for the public to comment on the study. The meeting will be held at Trinity Methodist Church, 2362 Bancroft Way, Berkeley, 7:00-9:00 pm. (across from campus)
E-mail comments to pplspark@berkeley.edu and attend the public input meeting!
The Community Advisory Board will be making recommendations to the university concerning the study and next steps in the planning process at its December 3, 2007 meeting, which will also be held at Trinity Methodist Church, 7:00-9:00 pm.
For those interested, at 5:45-6:45 before the November 5 public input meeting we will be having a class about the history and meaning of the park and then walking to the meeting. It will be at the Grassroots House. 2022 Blake St., Berkeley, CA 94704.
---
MKThink's Draft Summary Report
Notes on People's Park "Draft Summary Report" -- read the report here (20 M)
by Terri Compost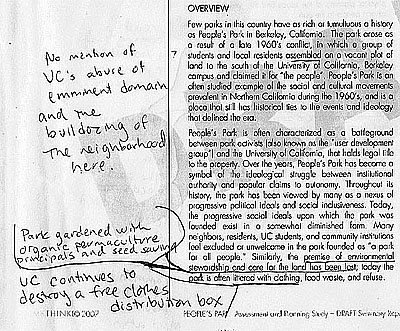 Here is the draft report from the architect firm that UC hired to do a "needs assessment" for People's Park. If you want to comment on it before it is "finalized" by MKThink, you should attend the next People's Park Advisory Board meeting on Monday Nov. 5, 2007 at 7pm at the Trinity Methodist Church at 2362 Bancroft / at Dana.
The university says it will post the report on their website (?) and they said they will try to get it up by next week (Oct 14). They say they will also be taking comments by email. You could see a version without my comments written on it there. The Advisory Board seems to intend on having a comment period for the public sometime after their next meeting and after the opportunity to input before MKThink finalizes their report.
It has yet to be seen which, if any, of these proposals the University (or the Advisory Board) may actually be interested in pursuing. In my mind the process was badly flawed in that it did nothing to begin a process of bringing the community together to find common ground for positive change. Instead the architects met with little specialty groups. We have yet to learn even who these groups were let alone what was said. The outreach focused primarily on people who do not now use the park and gave only token input to those who currently do use it.
There were however some good ideas and It seems to me that there could be improvements made to the Park that would be helpful and agreed upon by most. For example: putting signs on Telegraph directing folks to the Park, a tiled artistic walk up Haste past the mural, adding lights to the mural, creating nicer entrances (archways, signs, art..), putting a historical info board into the park, getting help for people in the park who need and want it, housing the homeless, more seating, more diverse events...movies, yoga, art, theater, neighborhood picnics and swaps, gardening classes, children's activities etc.
The report put our by MKThink does not really bring these up but instead reports their findings and gives sweeping suggestions. Go to the end where there are suggested sketches of the park to get a quick feel. There are several worrisome things, in my mind, in their report.
They suggest putting buildings on the park in a couple of versions. This seems to me to be in blatant contradiction to the consensus of wanting it to remain green open space and foolish in light of the desperate need for this open space in a very packed neighborhood. Buildings are not open space.
They are laying arguments to try to remove "services", i.e. free meals and sharing clothes (religious services, medical or psychological help) from the park by insisting it could only be done by "trained professional personnel".
Lots of suggestions to remove plants and trees. Creating "sight-lines" and "hard-scaping" the corners are all threatening to the natural feel of the Park. Concepts of retaining flowering refuges from the city buzz, or wildlife habitat are not mentioned.
They completely ignore the defining specialness of People's Park in that it was created and tended by volunteers in the community. Changes designed by professionals and implemented without the enthusiasm, if not by, the community are not in the spirit of the Park.
I believe the Park can become friendlier, but positive change in this park must include all concerned and pay careful attention to process.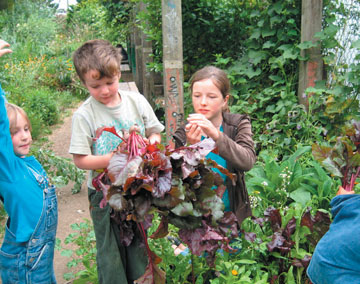 Peace and Happy Parks,

Terri Compost 10/6/07

Also see: What MKThink Missed (5.4 M).
---
Victory! Over the bulldozers!
University withdraws plans to bulldoze the Park edges!
The University and the Police announced plans to bulldoze down the historic berms (hills) on both ends of the Community Garden. In order to let police see though the park without getting out of their cars they wanted to destroy the serenity, trees and plants, animal habitats, and our community's cooperative efforts. At the People's Park Community Advisory Board meeting on December 4th, it was announced that the plans to bulldoze the berms were "off the table".
Thanks to all those who voiced their outrage at another heavy-handed attempt by the UC to exploit fears in order to take control of the Park!

We Continue to Demand:

No bulldozers in the Park!
Changes to the Park must involve the community.
Respect the natural environment.
Save the oaks at the Stadium.
Allow the freebox to be rebuilt.
Democratize the UC Regents!

An open letter to the advisory board.


No bulldozers in People's Park, but the UC is still stepping on it's neighbors' toes! Information about the ongoing treesit.

a response by Terri Compost:

Hope for People's Park

I would like to congragulate the community for coming out in support of People's Park. The University of California has stepped back from the foolish plan to bulldoze the edges of the Park. Thank you everyone. The standing room only crowd at the Advisory Board meeting on Dec 4th showed an active citizenry concerned about this special Park.

And yes, there are a variety of ideas about what is best. I believe the spirit of People's Park is best served by promoting dialogue and finding the common ground for improving our park. I am looking for others to help organize bringing together different people in the spirit of real listening and sharing with the goal to come to common understandings and ideas. There are also at this time many positive suggestions for events at the Park that could help build community. Are there any takers out there who may be interested in organizing a jazz concert?, tea party?, book swap?, movie series?, art show?, yoga? etc.

And lastly, I would like to invite anyone who has ideas or concerns with the community garden on the West end of the Park to come join the gardeners for a tour and idea sharing for improvements. If we can change our park through collective will and effort and the joyful work of volunteers, it will strengthen not only the history and uniqueness of People's Park, but our community as well. We want your participation. Please join us in the garden on Sunday Jan. 21, 2006 noon-4pm. (Jan 28th if it is raining).

Again, anyone interested in organizing community dialogue can call or email me.
Still Believing, Terri Compost
510 658-9178 terricompost@yahoo.com
---
PEOPLE'S PARK BOOK!
In Progress!

We are compiling a photo collection of The Park over the years and we are looking for submissions of photos, art, poems, quotes, very short essays and any interesting expressions of People's Park. High resolution photos and questions can be sent to terricompost@yahoo.com.
Exciting Upcoming Events!
November 19th, Sunday: Resident Hall BearFest
Noon-5pm. Come enjoy the park.

November 19th, Sunday: Organizing meeting to Save the Park.
... from the bulldozers!
4pm at Council Grove (northwest corner of the park)
... or in Cafe Med if it's raining.

Monday December 4th People's Park Community Advisory Board meeting
7pm at Trinity Methodist Church, 2362 Bancroft (at Dana)
your chance for "input" on bulldozing the berms!

We passed our
37th ANNIVERSARY
, on Sunday April 23rd. A User-Developed Celebration! A Do-It-Yourself Party and Re-Dedication of the People's Park! Enjoy the Spirit and Nature and the Harmony of Humanity!
Poetry Contest!!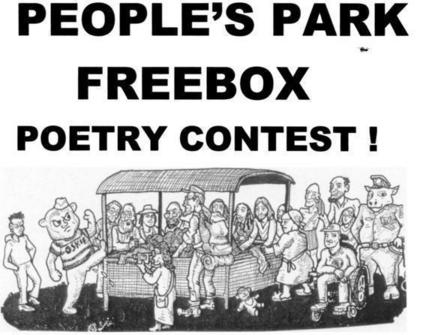 The People's Park Freebox is under attack and we are asking for your original poetry in praise of this noble expression of Berkeley spirit.

First prize $100 Second prize $75 Third prize $50

Prizes will be announced and awarded at the Free Speech event held at the corner of Hast and Telegraph, on Sunday, April 23, 2006. Send your submissions to:

PEOPLE'S PARK
PO Box 89
Berkeley, CA, 94701
Prizes to be awarded in two divisions: Kids ages 0-15; Adults ages 16-122.

Click here for a full-size flier.
Free-Box -- Every Sunday -- clothes sharing
The University administration has continued to stymie the Park community's efforts to rebuild the vandalized freebox, calling the rebuilding itself "vandalism". Temporary freeboxes have sprung up in the usual spot and others, filled with clothes, and some have left clothes hanging on trees. Come to the park any day, but particularly Sundays, with some boxes if you got 'em, to support building a new freebox, and continue the common-sense, people-centered, non-bureaucratic tradition of the Free Box.

in the media
an article in September 27th's Berkeley Daily Planet
an article in September 30th's Daily Cal.
a letter to the editor in September 30th's Daily Cal.


See some more photos of the efforts to rebuild the free-box so far (and the UC Police harassing them).


Park Events
Friday September 5 Free Speech Friday at the I-House, 2-6pm. (flier)
Friday September 12 Free Speech Friday at the I-House, 2-6pm.(flier)
Saturday September 13 Bring the Troops Home Now! in the Park.
---
40th Anniversary
the planning commences
The tremendous, celebrated, wonderful, fourtieth anniversary of the People's Park is approaching! Already, dreams are being dreamed, plans are being made. Share your dreams, and keep your ears open!
To participate in planning, please send your contact information and interests to peoplesparkanniversary@gmail.com.